AC drives are also known as Variable Frequency Drives (VFDs), Frequency Converters, Variable Speed Drives (VSDs).
Model Description:
XICHI XFC series vfds are all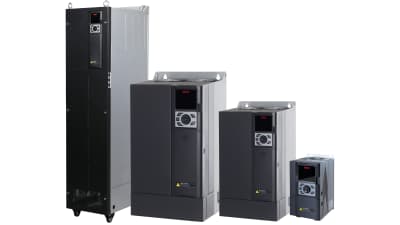 general-purpose vector control vfds, which are used to realize the control and regulation of asynchronous motors.
Typical industrial applications:
HVAC: fans, pumps, central air conditioning, fountains, tunnel ventilation...;
Machine tool industry: lathes, milling machines, grinders, planers, drilling machines, punching machines...;
Rubber and plastics industry: extruder, sheet machine, curling equipment, slitting machine...;
Printing industry: offset printing machine, screen printing machine, flexo printing machine...;
Textile industry: roving frame, jigger, setting machine...;
Lifting industry: tower cranes, hoists, winches...;
CFV series is a high-high voltage source AC Drives, which can be adapted to 6KV, 10KV ordinary asynchronous or synchronous motors. One-piece design, easy to transport and install.
Can be used for fans, water pumps; hoists, belt conveyors and other loads.
Basic principles of variable frequency drive capacity selection.
Based on the rated current of the motor does not exceed the rated current of the general-purpose inverter, the rated power of the motor can only be used as a reference.